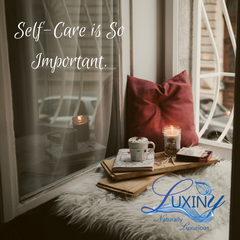 In today's society, self-care is becoming more necessary than ever before. There is so much stimulating us daily. Whether it's our drive for success, to be the perfect mother, friend, or daughter, staying on top of personal goals and achievements, keeping a clean house, too much technology, personal life or family struggles, keeping yourself healthy, or any other multitude of life's tasks – it can all add up t be extremely overwhelming and stressful. This will eventually lead to burnout. Self-care helps us maintain our health, enthusiasm for life, and allows us to present our best selves to the rest of the world.
What is "Self-Care"?
Self-care is the practice of caring for yourself during our crazy, chaotic, and busy schedules. It doesn't always amount to one right thing It is meant to be the things that relax you and helps you clear your mind, in order to feel more energized and focused when you go back to more complicated tasks. It sounds simple, right? Why do we struggle with making ourselves a priority?
Self-Care is Not Selfish.
People often say that they are too busy for self-care routines. A lot of times, it's not that we are too busy for self-care, it merely takes a back seat to ambition because our society has created a sense of obligation to say yes to everything we are asked to do. We don't make the time for it because we are afraid that we won't have time to finish other important tasks. The more we do this though, the more burnt out we will become. This will cause us to lose energy, feel emotionally drained, and lose motivation in the long run though. By allowing ourselves to feel more relaxed and become healthier, we are allowing ourselves to put our best foot forward in everything else that we do.
What Are Some Approaches to Self-Care?
Self-care is feeding the need to take care of your physical and mental health. There isn't always a right way to care for yourself. You need to do what works for you, whether it's yoga, journaling, or getting outside, you deserve to do it. Some of the top suggestions that we've come across that have helped many other people are:
Reading
Spend time outside
Get a massage
Say "no" to extra obligations without guilt
Journaling
Exercise
Yoga
Meditation and deep breathing
Unplug from technology for a few hours
Take a fun class
Take a long bath and read some magazines
Light some candles and have a glass of wine
Do your skincare routine and apply a face mask
As you can see, there are so many ways to care for yourself and recharge. It is so important for your well-being to make the effort to care for yourself. Luxiny's skincare line can help you with your self-care skincare routines. Check out our website to find out more!