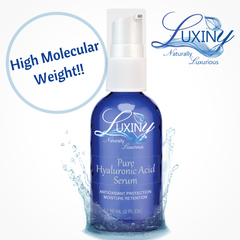 It's no surprise that hyaluronic acid is such a popular product for skincare. It provides the hydration and nutrients that our skin begins to lose as we age. It helps replenish hydration, improves the elasticity of the skin, and helps reduce the appearance of wrinkles. However, hyaluronic acid can come in different molecular weights and providing different effects on your skin.
Hyaluronic Acid is the main component of the extracellular matrix in our body. It is one of the key players in tissue regeneration and repair. It's kind of obvious that when hyaluronic acid depletes in our bodies as we get older, that we would begin to lose the elasticity in our skin and wrinkles would begin to appear. This is why skincare companies have created hyaluronic acid serums, to help us battle this issue and allow it to be reabsorbed into the skin. Some serums are more beneficial than others, simply based on the molecular size of hyaluronic acid that they use.
Luxiny has chosen to use high molecular weight hyaluronic acid because unlike a low molecular weight it contains healing properties and does not elicit an inflammation response. Our high molecular weight serum provides our customers with the following benefits:
Instant volume that plumps the skin
Moisture surge
Replenished suppleness
Smoothed fine lines and wrinkles
To learn more about our products visit our website. As always, we are a cruelty-free company that prides itself on not testing on animals. Our serum is derived from plants, allowing us to maintain our standards for natural or naturally derived ingredients.