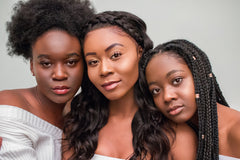 Many people don't realize how important having a skincare routine is, but it is more common that people just don't know the correct order that they should apply their skincare products. It is often believed that it is a simple wash-and-go process, but there is an art to the best skin care routines. Having the right routine will help you produce the best results and care for your skin the way it should be cared for.
What is the best process?
There are good reasons that there is a specific order to use your products. Some enhance the features of other products, some prepare the skin for the next product, and some provide your skin with the nourishment that it needs when necessary.
Remove your makeup. The first step should always require you to remove what is currently on your face. Just jumping into washing it with a cleanser may not allow the cleanser to do its full job, because it will need to fight through the makeup to even get to the pores and dirt underneath.
Wash your face with a cleanser. For this step, it is best to use lukewarm water. Warm water helps lift the dirt out of your skin, but hot water can dry your skin out. Our Glycolic Acid Face Wash is great for making sure that all the dirt is removed, and your skin is prepared for the next steps in your skincare routine.
Apply your serum. Serums are incredible for your skin. They can address many different skin issues, like anti-aging, moisturizing, redness, and more. Our Pure Hyaluronic Acid Serum provides anti-aging properties, great moisturization, and even enhances the effects of your moisturizer. The best part is that it does so without leaving your skin feeling greasy or leaving a residue behind!
Don't forget to moisturize. You will get moisture from your serum, but your moisturizer will not only add more hydration, but it will also prevent water loss and help protect your skin. Our Vitamin C Cream provides great moisturization, anti-aging properties, reduced hyperpigmentation, and even antioxidant protection.
While you can use any products that you want to complete your skincare routine, we highly recommend using all three of our products together for the best results possible. We only include the highest quality ingredients in our products, and we are a cruelty-free company that refuses to test on animals. To find out more information visit our website.