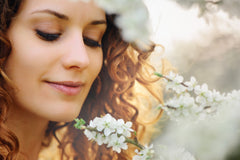 Using vitamin C as a topical has been the talk of the town for a little while now, but that's no surprise considering all its benefits. It is full of antioxidants to protect against free radicals, it improves healing responses in your skin, and even helps reduce the appearance of scars or acne marks. Our Vitamin C Cream even takes it a step farther and contains sodium ascorbyl phosphate, which is a vitamin C derivative that is even better for your skin!
How Does it Help Your Skin?
The antioxidants contained in Vitamin C have been proven to help protect your skin from free radicals. This means that they can develop and repair themselves without abnormalities. Free radicals in our environment are one of the leading causes of aging skin, dark spots, wrinkles, and even cancer. Protecting your skin from free radicals is far less expensive than trying to treat the resulting issues later in life.
Vitamin C contains anti-inflammatory properties. This helps reduce redness and clear your skin from acne or acne scars. Using our Vitamin C Cream daily can help significantly reduce the pigmentation of scars caused by acne.
Lastly, vitamin C is a collagen booster! Collagen production is necessary in order to obtain firm, flexible, and healthy skin. It is the most abundant protein in the human body and is considered the glue that holds our bodies together. As we age, the collagen depletes in our skin, the integrity of our skin declines. This is one of the top causes of lines and wrinkles. Boosting collagen production allows us to help our body restore it's natural and youthful glow.
Why You Should Choose Luxiny's Vitamin C Cream.
While Vitamin C is safe for most skin types, it can sometimes be an irritant. Luxiny uses a vitamin C derivative called Sodium Ascorbyl Phosphate. Sodium ascorbyl phosphate is a more gentle and stable approach to obtaining the benefits of vitamin C, without having to worry about agitating your skin.  We have also included jojoba seed oil and squalane, to add nourishing moisture that absorbs into the skin deeply without leaving your skin greasy.
Luxiny is a cruelty-free skincare line that does not and will not test on animals. Our goal is to help you achieve the youthful, healthy glow that you've always wanted, and we only use ingredients that are proven to help you do just that. To learn more, visit our website and become part of our VIP Club by messaging us on Facebook!