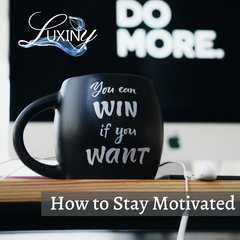 It is so easy to lose motivation in today's society with all the distractions that we face daily. We may want to have bigger goals, but our daily lives don't support the drive that it takes to accomplish them. Some people may only want to enhance their daily routines (like creating a steady skin care routine) and just can't seem to bring themselves to keep their commitment to change. In either scenario, there are simple steps you can put in place in order to help yourself power through and reach your goals.
Visualize your goals and achievements. Some of the most well-known athletes will take time to envision what their win would feel like, smell like and look like. They visualize what will need to happen in order to achieve their goals. They focus on the bigger picture and zone in on the win.
Break down your goal into smaller targets and celebrate them. Sometimes the bigger picture is too overwhelming to focus on. Write down your end goal and then break it down into smaller steps that you need to take in order to get there. If your goal is to get a college degree, you can break it down by classes left or semesters remaining until graduation. If you just want to create a better routine, write down the ways things would need to change a little in order to include it in your routine.
Focus on your "why." Remember why you were motivated in the first place. If you want to make a difference in the world, remember why it would be a good change. If you want clear skin, focus on how badly you want young, bright, clear skin. Make a list of reasons why you want to accomplish your goal. Don't let temporary feelings or distractions stand in your way of what you want long term.
Change your approach a little. Not every attempt will go as planned. Be forgiving with yourself in times that you feel like you've failed. Rest, focus, and think of a new way to achieve your goal. Maybe instead of waiting until right before bed to wash your face, plan to do so about an hour or two before you normally go to sleep. This would ensure that you don't get too sleepy to complete the task.
Step back and appreciate your progress. If you get discouraged at how far you must go, look back and remember the progress that you've already made. This gives you a moment for gratitude and will make you happier while continuing your progress. Always remember that you are one step closer than you were yesterday.
Whether your goal is to commit to healthier routines or to change the world, we need to make a plan and stay motivated enough to do what it takes to reach your goal. Healthier skin reflects a healthier body. Luxiny has the best skin care products to help you get a healthier you. Our products are vegan, gluten-free, paraben-free, sulfate-free, and are only made from natural or naturally derived ingredients! Find out more on our website today!