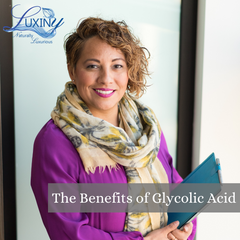 Glycolic Acid is life changing when it comes to your skin care routine. It is a chemical exfoliant that gently sloughs off dead skin to reveal younger, healthier skin. This sounds scary, but it's actually quite the opposite. It's one of the safest ways to remove the dead skin, and it won't clog your pores like other exfoliants will. You just simply need to start using it like you would any other exfoliant and start slow.
While Glycolic Acid is best known for being an exfoliant, it has many other benefits as well. It is the smallest structure of alpha-hydroxy acids, and it also has the lowest molecular weight. Because of this, it can easily penetrate the skin deeply and effectively to provide your skin with the best results and can serve more than one purpose. Other skin issues that Glycolic Acid can be used to help you treat are:
Scarring
Balancing the PH in your skin
Dark spots
Acne
Signs of aging
Wrinkles and fine lines
Large pores
Loss of collagen
Our products at Luxiny are natural or naturally derived, vegan, 100% cruelty-free, not tested on animals, gluten-free, sulfate-free, and even paraben-free. We are incredibly excited to provide our customers with the best Glycolic Acid products in order to help you with some of the issues you might be facing with your skin. To find out more about our Glycolic Acid Cleanser and Glycolic Acid Toner visit our website today!