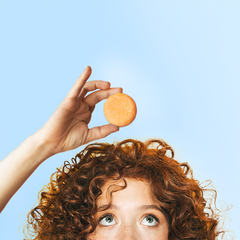 How many plastic bottles are in your shower or bath right now? Even the most low-maintenance of us will say they at least have a bottle of shampoo. I'd be willing to bet most people have shampoo, conditioner, body wash, and maybe shaving cream. How many of those plastic bottles do you go through every year? I can tell you. In the United States alone, we go through 550 million shampoo bottles yearly. 550 million. That number doesn't even include conditioner, body wash, leave-in conditioner, shaving cream, or any other bath product. That's just shampoo.
What had been previously sold as bars or in glass jars has shifted entirely to being packaged in plastic containers. This is because in the past century, we have seen tremendous growth in the bath product industry, and consumers have been presented with almost nothing but plastic packaged products across supermarket shelves. These cheaper and more convenient changes laid the groundwork for the enormous waste problems we now face.
Plastic waste isn't the only battle we're fighting regarding shampoo and conditioners. So much water goes into making bath products. Most liquid shampoo and conditioners are more than 80% water. All that water is a filler that runs down the drain for no reason other than to fill up a plastic bottle. I know you must think, "Wait, the Earth's surface is 71% water." Yes, there's a lot of water on this planet, but most of it is in the oceans. 96.5% of all the Earth's water is salt water. That means most of the water on this planet can't be used by us. That leaves 4.5% of all the Earth's water to be drunk or used in food production. Without that tiny fraction, we would all starve and dehydrate. It makes you feel differently about dumping it into a shampoo bottle, right?
Don't worry. It's not hopeless. We can look to the past to find solutions to this plastic and water waste problem. Making the switch back to bars instead of bottles is a huge step in the right direction. The average American goes through 11 bottles of shampoo a year. Cut that plastic footprint out of your life and try a plastic-free option. Luxiny shampoo and conditioner bars have no plastic packaging and no water used in their making. Luxiny's specially formulated shampoo bars can also be a body wash, and the Luxiny conditioner bars can be used as shaving bars and leave-in conditioners for after you get out of the shower. That's 5 normally plastic packaged products replaced with just two bars. Give them a try. This is one small change you can make that will have a huge impact long term.
The demand for these personal care products isn't going away. However, the good news is that there is an eco-friendly solution. These sustainable products eliminate plastic bottles and provide an arguably better cleaning experience. Luxiny's bars are not only mindfully made and plastic-free, but they're also sulfate-free, paraben-free, and silicone free. Every shampoo bar and conditioner bar is hand-made here in the USA with natural, plant-based ingredients that are also 100% vegan and cruelty-free. Try them for yourself. Sustainability starts with the small changes we make in our daily lives. Making the switch to shampoo and conditioner bars is a great way to do your part in making sure we have a healthy, happy planet for generations to come.