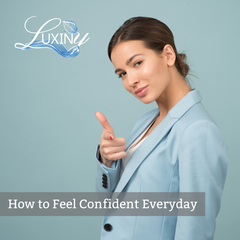 Many people seem to think that feeling confident every day involves a level of arrogance and self-centeredness, but this couldn't be farther from the truth. It goes beyond the superficial and has more to do with building a life that you love and deserve. When you feel confident you approach life with a completely different attitude, which can help you acquire the things that you want out of life. Having a good sense of self-confidence can help you in your relationships, in your career, and standing alone. We have composed a list of suggestions that you can use to help yourself feel more confident every day.
Exercise and Eat Mindfully
We shouldn't do these things as a form of torture because we hate the way our body looks. Instead, we should focus on the intention of thanking our bodies for getting us through another day. Exercising, eating healthy foods, and staying hydrated helps us to produce happy hormones and think clearer. Doing so will help fuel our body properly for the way that we want it to and the way that it was it was meant to function.
Sit Up Straight
Power poses make you feel more confident and none of them include slouching. In fact, psychological studies seem to say that slouching can make you feel sadder instead. You can actually trick your body into feeling more positive by changing your position and sitting upright.    
Give Yourself Positive Affirmations
Think about all of the things that you love about yourself and who you are. On days when you are feeling a little more insecure or fighting the urge to compare your life to others, sit back and focus on all the positive things about yourself. We are surrounded by comparison attitudes. It is fed to us by magazines and we do it all the time while scrolling through social media. Maybe we're not who or where we want to be yet, but we're likely on our way. Think about how far you have come and give yourself the time to feel proud of those accomplishments. Refuse to think negatively about yourself.
Wear Your Favorite Outfit
You shouldn't rely solely on clothing our outfits to make yourself feel good, but it's okay to reach for the clothing that improves your body image. If they can help you reach the level of security you need to feel your most confident, then definitely go for it. After all, we all have those articles of clothing that make us feel a bit more forgiven when we aren't feeling our best.
Wash Your Face
Your skin covers your entire body. It is your largest organ and it's exposed to the world. If it doesn't look or feel it's best, then you won't feel as confident. Takin good care of your skin makes the world of a difference when it comes to how confident we feel with and without makeup. Luxiny has the best skincare products that will help you achieve your healthiest and most confident glow. Their products are GMO-free, sulfate-free, vegan, not tested on animals, cruelty-free, gluten-free, and made in the USA. For more information about our products visit our website!