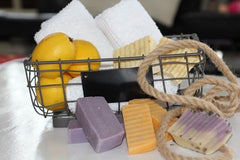 Castile soap is an ancient soap that is gaining in popularity. It is believed that a soap similar to castile soap was made as long ago as 300 AD. Though it has been made for many centuries, it is only now just exploding in our modern marketplace. These days, people are looking for natural ingredients in their self-care products. Castile soap is a luxurious way to cleanse safely.

Castile soap is named after the Castile region in Spain where it was made using olive oil and caustic soda. It is still made in a similar way using a variety of plant-based oils. Often, essential oils, herbs, and spices are added as enhancements. Castile soap is gentle on the skin and not harmful to the environment.
1) Safe

Genuine castile soap does not have any harmful ingredients and is incredibly safe. Many soaps on the market include harmful ingredients, such as sulphates and parabens. Plant-based castile soaps do not contain any of these harsh ingredients. You can use castile soap regularly and not worry about harmful chemicals building up in your body from your soap.

2)  Environmentally Friendly

Not only are castile soaps safe for you, but they're also safe for the environment. A high-quality castile soap, like the ones available at Luxiny, are never tested on animals and are only made from sustainable plant-based sources. Look for castile soaps that do not contain palm oil, which is an ingredient that causes great environmental strain.

3)  Luxurious

Castile soaps are made of natural, plant-based oils and essential oils, which are incredibly luxurious. The moisturizing properties of a beautifully made castile soap is incomparable. Essential oils, herbs, spices, and other natural ingredients add to the overall feeling of wellbeing when you use a luxurious castile soap to gently cleanse.

4)  Variety

Castile soaps come in a wide variety of combinations. The plant oils that give the soap its moisturizing properties can be blended in a variety of ways. Modern castile soap can be made of one or a blend of oils, such as olive, shea butter, coconut, avocado, walnut, hemp, or cocoa butter. Other ingredients can also be added, like essential oils, seeds, spices, and even oatmeal to produce many different kinds of castile soaps. You can try a variety of castile soaps that use different blends of moisturizing oils and essential oils to find the soaps that are your favorites.

5)  Works Well

The natural, plant-based oils in castile soap work well at removing excess oil and dirt from the skin without clogging pores. They sooth dry skin as well as help to balance oily skin. Naturally occurring antioxidants in the oils of castile soap help to reduce the visible effects of aging on the skin. Some people use castile soap to ease the irritating and sometimes painful symptoms of eczema and psoriasis.

Castile soaps are a natural, effective, and safe alternative to other soaps on the market. Check the ingredients list on the soaps you are considering and make sure that they do not contain any harmful additives. Find soaps that are environmentally friendly, vegan, and cruelty-free. The wide variety of luxury castile soaps available at Luxiny are all of these things.