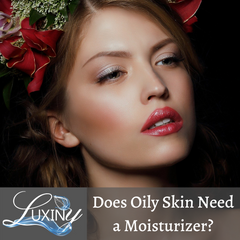 Have you been skipping moisturizer because you have oily skin? Many people think that this is the best plan of action because they don't want to add even more shine to their skin. However, you should be more concerned with hydration than adding more shine to your face. The two are often confused but are actually quite different. When you don't hydrate because you're afraid of adding more oil, you might actually develop more problems because your skin isn't getting the hydration that it needs to look young and healthy. Never underestimate the power of the perfect moisturizer.
By skipping moisturizer, you may be causing more oil production. It's important to remember that oily skin does not mean that your skin has enough water. When your skin is lacking the hydration that it needs it rebounds by creating more oil. This, of course, causes more issues like breakouts, inflammation, and clogged pores. If this pattern continues, it can even cause premature aging and breakouts. Needless to say, yes, you need a moisturizer even if you have oily skin. You shouldn't just grab any lotion on the shelf for your face though!
Don't settle for just any moisturizer. When searching for a moisturizer that works for oily skin you will want something lightweight that doesn't leave a greasy residue behind. It's best to avoid face creams that contain heavier ingredients like cocoa butter, lanolin, or even petrolatum, because these ingredients will clog your pores.
Give Luxiny's Vitamin C Cream a try! We have formulated our Vitamin C Cream to provide your skin with hydration and nourishment without leaving your skin feeling greasy and heavy. It was designed with oily skin in mind and won't add extra shine to your skin. We know that our Vitamin C Cream will help you diminish dark spots, reduce the appearance of fine lines and wrinkles, provide an antioxidant protection, and it won't leave your skin feeling like it has excess oil.  Visit our website for more information!