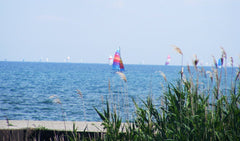 I love summer. Nearly my entire life, I have lived within a five-minute drive of our massive Lake Huron. A trip to the lake for me and my family is much shorter than for those who travel a greater distance to spend the day at the lake.
My family and I love taking a walk along the river walk that runs through downtown Port Huron. We enjoy watching the boats on the Black River as they make their way to and from the lake.

You can tell who is prepared for their day on the lake and who isn't. Those who are prepared will wear sunglasses, a brimmed hat, and a lightweight shirt or shaw to get protection from the sun.

Those who are not prepared will be stripped down to their swimsuits, with their tanning oil glistening in the sun. Those are the ones who, four hours later, make their way back up the river with skin as red as a boiled lobster; I always wince to think about how much pain they will end up in later if they aren't already feeling it.
When planning to spend the day at the beach or on a boat, you should pack for the day and be sure to prepare your skin for exposure to the sun, wind, sand, and water.

1. Minimalize your makeup usage. Go as bare as you dare. Let's face it; you will be sweating through your makeup anyway. Why slather on foundation and layers of makeup to sweat it off?
2. Be sure to moisturize thoroughly. Getting a great base coat of your favorite moisturizer (like our Tea Tree Face Cream) helps ready your skin for sunscreen. 
3. Coat yourself with sunscreen. After moisturizing, apply sunscreen to shield your skin from those harmful UV rays. Then reapply your sunscreen once you get to the beach or as soon as you get comfortable on the boat. Continue to reapply your sunscreen throughout the day. 
4. Hydrate. Drink water before you leave for the day. Your skin will thank you, especially if you plan to have a few drinks. 
 5. Rinse off
 after swiming. You want to rinse off whenever you dip in a pool or a body of water. You never truly know what you are swimming in, and you want to avoid leaving chemicals, salt, or unhealthy organic material on your skin or hair. 
Try our Beach Bars. Our Citrus Splash Shampoo Bar will clean your body, as well as clean and detangle your hair. Our Citrus Splash Conditioner Bar will keep your hair and skin hydrated and moisturized. 
For those planning overnight trips on the boat, we have our shampoo and conditioner bars that are perfect for small spaces. Our Bay Rum Scented 3 in 1 bar is a shampoo, body wash, and conditioner all in one small bar.
Pair these shampoo and conditioner bars with our travel tins for easy storage, and toss them in your beach or overnight bag. 
You will get between 50 and 70 uses, so you are saving not space (which is valuable on a boat) but money too! 
 Keep enjoying your summer!