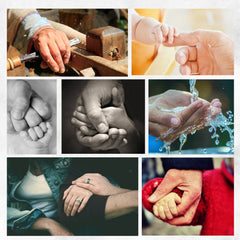 Growing up in a working-class town in Michigan, most of the men in my life were considered "blue-collar" workers, even though their uniforms may or may not have had collars. They were Farmers, Mechanics, Factory Workers, Construction Workers, Plumbers, Truck Driver. Men who worked hard, men who worked with their hands.
My father was a carpenter. He crafted wood trim in homes once the walls were finished. Once, he took me into one of the homes to proudly show me his craftsmanship. 
Each piece he had hand-carved, sanded, and stained. While he stood there beaming with pride over his finished product, I softly reached up and took his hand in mine. Before that moment, I had never held my daddy's hand. His hands were always in rough shape, dirty, and covered in blisters, and cuts. They were almost scary to me as a little child. 
I realized at that moment that the reason his hands were so rough was because he used them to create beautiful things. I stared at the contrast between his rough, working hands and my soft, smooth hands. 
For too long beauty products were marketed to women and girls. Floral and sweet-scented moisturizing bar soaps filled the shelves for as long as I could remember. Here at Luxiny we know that skincare is not just for women. We have created several products specifically for men because we know their skincare* is important.
Our handcrafted Essential Oil Bars come in several long-lasting scents that will leave him feeling fresh, masculine, and handsome. His skin will feel and look healthier, and he will smell amazing. We use Cocoa Butter, Shea Butter, Olive Oil, and Coconut Oil, blended with natural clays, botanicals, and activated charcoal to create a base that will truly nourish* hungry skin as it cleans. Then we add in our choice Essential Oils to match a variety of personalized skincare needs*. 
Eucalyptus Spearmint

*:

 

Eucalyptus has a minty pine scent that has a

nti-inflammatory, anti-bacterial, and analgesic properties. It is a powerful natural healer.

 

Spearmint has a cool mint aroma and natural

 

antiseptic and anti-bacterial properties. This combo is great for soothing irritation and inflammation that come from acne, skin rashes, or bug bites. The combined aroma

 

can ease the mind or the day's stress, and leave you feeling relaxed and recharged.
Patchouli Scrub

*: This bar combines the soft musky-earthy scent of patchouli oil with the exfoliating power of poppy seeds to give skin a deep cleanse. Patchouli oil is another natural healer with anti-inflammatory properties. This bar is a favorite of those with

 

eczema, dermatitis, and psoriasis.
Orange Patchouli*:

 

The sweet citrus scent of the Orange Oil mixes well with the musky-earthy scent of the Patchouli oil. The Orange Oil is anti-bacterial and anti-fungal  Together the two oils work to treat and relieve

 

eczema, dermatitis, and psoriasis.
Cedarwood & Clove

*: With a

 

warm spicy wood scent

 

this mix is perfect for skin that takes abuse, such as my dad's hands. Cedarwood, with its woody scent, is a natural antioxidant that has

 

anti-inflammatory and antimicrobial properties. Clove Oil is a natural analgesic and helps reduce the appearance of fine lines and wrinkles and increases blood circulation.
Tea Tree Citrus*:

 

The refreshing scent of Lemon and Lime is mixed with the spicy scent of Tea Tree Oil and has just a hint of cinnamon in this bar. It is definitely energizing and will treat soothe skin blemishes and redness while reducing the visibility of fine lines and wrinkles. Tea Tree oil is one of the most popular natural anti-inflammatory agents. The cinnamon in this bar acts as a light exfoliator. 
Walk In The Woods

*: This earthy mix uses

 

Cedarwood, Fir, and Peppermint, as mentioned above C

edarwood is a natural antioxidant that has

 

anti-inflammatory and anti-microbial properties. Fir has a clean pine scent

 

and is great for tired achy muscles and the swollen joints that come with arthritis. Peppermint Is an anti-inflammatory that can help relieve itching and muscle pain. This is personally my favorite for my husband to use, as it leaves him smelling like he spent the day in the woods getting in touch with nature.
Aside from our moisturizing Essential Oil Bars*, we also have soothing bath salts and bath bombs that are sure to become a hit with your favorite guy. 
Whether used as a foot soak or full body bath, our stress-relieving* Eucalyptus Spearmint E.O. Bath Bomb will truly leave him feeling pampered and relaxed. As mentioned above this particular essential oil combination helps soothe and calm the mind*, but when added to a bath the combo can also relieve* the aches and pains that come from a long day. All our bath bombs are made with Coconut Milk Powder and Almond Oil. This combination can moisturizes and soothes* even the most overworked skin.
My father still uses his hands to create beautiful wood pieces, he still ends his day with splinters, blisters, and cuts. Arthritis has swollen his knuckles just enough to get him to be willing to take advice from his "little girl" and he uses our Cedarwood & Clove Essential Oil Bar at the end of his day. It is never too late to start a skincare routine*. 
*Our products are not intended to diagnose, treat, cure or prevent any condition or disease. Always check the ingredients of products to avoid potential allergic reactions*